"
Come on, buddy! Smile for a bit!
"
 

"Mi-" is a character in Children. His full name hasn't been revealed yet.
Appearance
Mi- has messy chestnut hair and dark brown eyes, He wears a green shirt and blue jeans, along with brown shoes.
Personality
Mi- seems to be an overall nice and friendly guy, as he tried to make Kenny happier and showed concern at the possibility of Michael being mad at him. He has a habit of talking to himself, and sometimes pointing it out.
History
Mi- first appeared in Part 69 looking for Michael Gould, mentioning he couldn't come to his birthday as his parents didn't let him due to it being "too dark and dangerous. He later appears in Part 74, trying to cheer up Kenny until he points out Freddy(Daniel Chesser) is behind him, Mi-'s not bothered by it until Freddy grabs him, which causes him to freak out. Freddy lets go in Part 75 after William hits him with a crank, but not before Mi- notices Daniel's corpse in the suit. Mi- tries telling William Freddy wasn't trying to hurt him in Part 76, but William interrupts and threatens him. In Part 77 Mi- convinces himself to tell the police about what he saw.
Relationships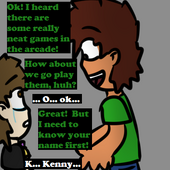 Mi- met and briefly talked to Kenny in Part 74 trying to convince him to smile and have fun, even offering to play arcade games with him, they were getting along until Freddy appeared, and haven't interacted ever since.
Trivia
Mi-'s real name was originally planned to be Mike, but that was changed after Michael Afton was introduced to FNaF and added to Children as too many Mikes would be confusing.
Ad blocker interference detected!
Wikia is a free-to-use site that makes money from advertising. We have a modified experience for viewers using ad blockers

Wikia is not accessible if you've made further modifications. Remove the custom ad blocker rule(s) and the page will load as expected.